Setting Up SMS Reminders
This page describes how to set up SMS reminders for your patient visits.
Note: your SMS credits are managed directly with the provider. Practice Master do not profit in any way from your SMS credits. We are a transparent company with no hidden costs and as such we do not re-sell SMS credits.
Creating An SMS Account With The Provider
Step 1
Ensure your regional settings in the 'Administration/Practice Details' screen are set to your preferred country. When you open the provider's website using the link in the steps below it will be dependant on your regional setting.
Step 2
Open the 'Administration/SMS & Email Reminders' screen and click on the 'SMS Account Details' tab.
Step 3
You will need an account set up online before you can enter the 'Username' and 'Password', so click on the 'Log in or create an account online' link.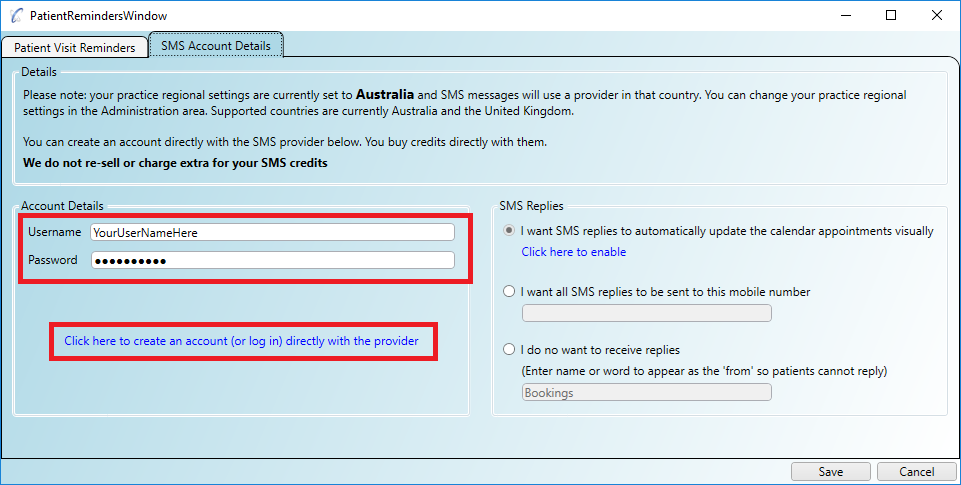 Step 4
Set up your account with the SMS provider on their website according to their instructions.
Step 5
When finished enter the 'Username' and 'Password' details as recommended by them in to the screen as shown above.
Step 6
You can read the guide to Handling SMS Replies or for now you can ignore replies from your patients.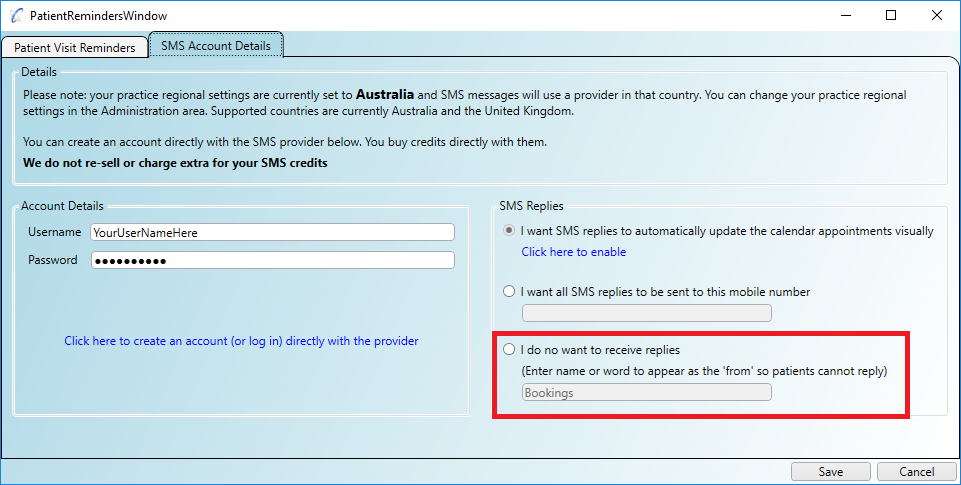 You can read more about your options for handling replies from your reminder SMS messages including how they can visually update appointments on your calendar on the
Handling SMS Replies
page.
Creating Your SMS Reminder Message
Step 1
Open the 'Administration/SMS & Email Reminders' screen and click on the 'Patient Visit Reminders' tab
Step 2
You can set various options on this screen as well as ensuring that 'Enable Reminders' is ticked and that 'Send Reminders Via' is set to 'SMS'.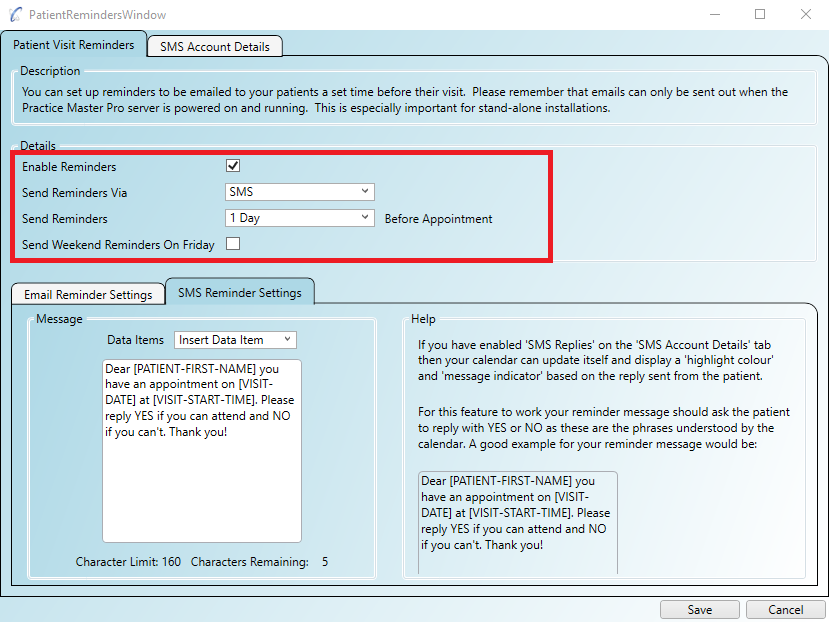 Step 3
Underneath, on the 'SMS Reminder Settings' tab you can enter the message that will sent to your patients. You can use the 'Data Items' list to 'inject' the real data in to the message before it is sent. This means you can personalise the message with their name and add other details such as the visit time and date.