Backing Up All Your Data
We recommend you back up your system frequently. It is also recommended to keep a copy of the latest backup:
On the same computer as the server - so you can restore quickly in the event of a software failure
On a thumb drive at your practice - so you can restore to a new installation in the event of a hardware (computer) failure
On a thumb drive at home - in case of a disaster at your practice (fire/break-in etc)
With Practice Master Pro you can backup your entire system with a single click.
Step 1
Start the Server Configuration tool by either:
Open 'All Programs/Practice Master Pro/Server Configuration'
If you are on the Server computer, in the application click the 'Tools/Backup' menu
The Server Configuration tool will open on the 'Repository' tab with the 'Backup' sub-tab already open for you. You have some options as to what to back up:
FileStore - all your email attachments and files you have generated/copied in against patients etc
Database - all your patients, patient notes, appointments, accounting information (everything that isnt a physical file)
A 'Database' only backup will be very fast and a 'Database' with 'FileStore' backup will take longer depending on the number of files in your system (email attachments, files manually attached to patients etc).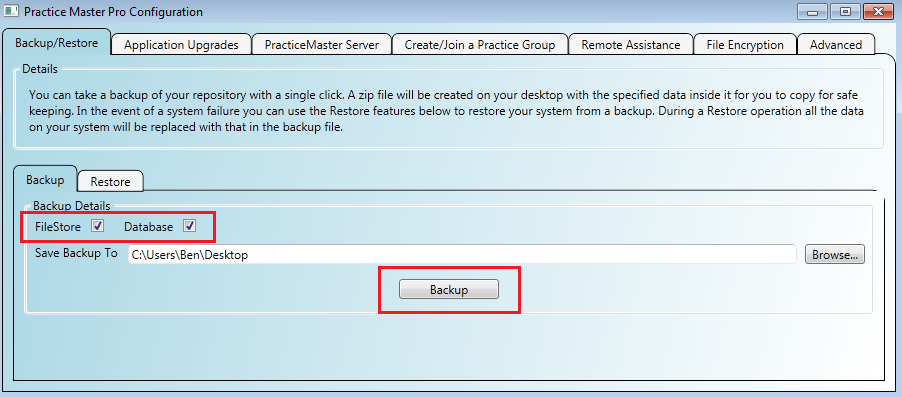 Step 2
The 'Server Configuration' tool will create the backup for you as a 'zip' file on your desktop by default.