Medicare Easyclaim
To use the Medicare Easyclaim feature you need to have the Tyro payment terminal enabled and as such is only available to users in Australia.
Your billable items will also need to have MBS Item Numbers associated which you can read about here:
Medicare Benefits Schedule (MBS Items)
And your provider numbers which you can read about here:
Provider Numbers
If you want to charge a different amount for services than those suggested by the Medicare Benefits Schedule (and therefore choose not to use the Bulk Bill feature) you can still allow your patients to claim back the Medicare rebate using the 'Medicare Easyclaim' button.
Medicare Easyclaim
Step 1
When you have an invoice with Medicare claimable items added which has been fully paid you can click the 'Medicare Easyclaim' button.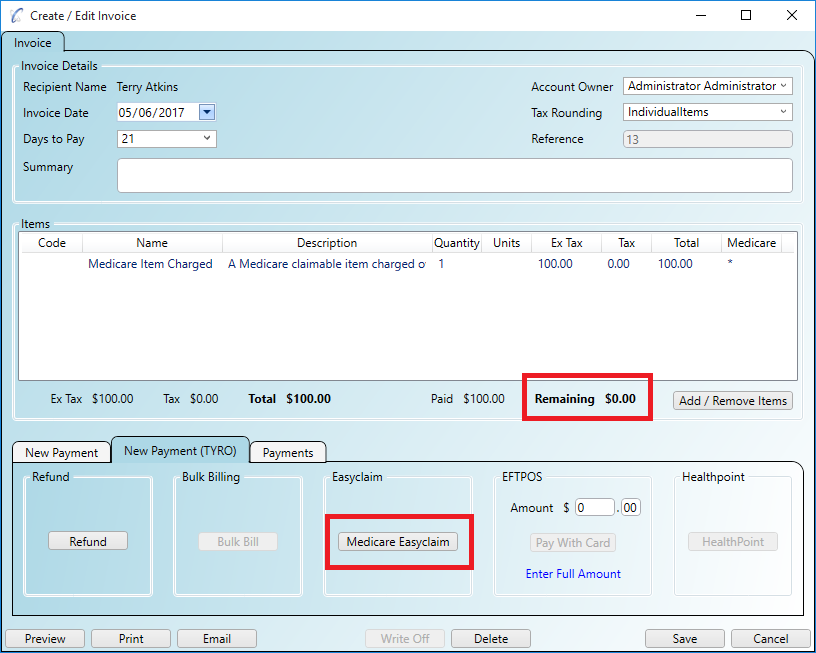 Step 2
After your patient follows the steps presented on the Tyro payment terminal a message will appear in Practice Master to indicate whether it was a success or a declined/failed transaction. If successful a payment item will be added under the 'Payments' tab indicating the Easyclaim rebate details.